The
Land Art Generator Initiative
(LAGI) recently announced the winner of their 2010 LAGI design competition. According to the
competition brief
, the project should propose energy generating public art which is culturally valuable, approachable for people and environmentally sound. There were
many very creative and forward-looking entries
for the competition and the jury for sure didn't have an easy time to decide about the winner.

During the recent
2011 World Future Energy Summit
in Abu Dhabi, the winning project '
Lunar Cubit
' was announced. The project was developed by Robert Flottemesch, Jen DeNike, Johanna Ballhaus and Adriana P. De Luca and designed to be located at an intersection on the road connecting Masdar city with Abu Dhabi airport.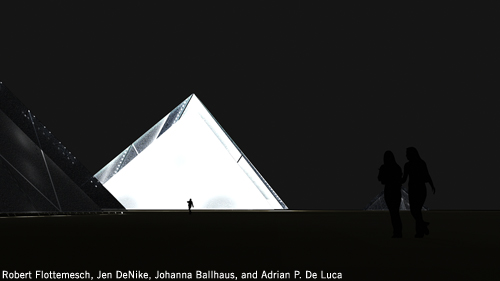 Lunar Cubit by night indicating the lunar cycle [image copyright by competition team]
from the project description:
"
Lunar Cubit
is a site specific proposal to be constructed in Abu Dhabi just outside Masdar City, the world's first zero carbon metropolis once completed. Combining artistic vision with sustainable design and engineering, Lunar Cubit examines the nature of time through nightly contemplation of lunar phases and daily transformation of sunlight into electricity, powering up to 250 homes. Inspired by astronomy, quantum physics and the photoelectric effect, for which Einstein received the Nobel Prize in 1921, this work is open to the public, inviting a personal experience where one can literally reach out and touch a 1.74MW utility scale power plant, in the form of nine monolithic pyramids rising from the sands of Abu Dhabi.
Lunar means relating to or involving the moon and cubit is the name given to the oldest recorded units of length; employed though antiquity, the oldest cubit being the royal cubit, dating back to the Step Pyramid of Djoser circa 2,700 B.C." [
source
]
Lunar Cubit by day, an approachable public sculpture. [image copyright by competition team]


You can study the proposal more in-depth with the
low-res competition pdfs
or on the
Lunar Cubit webpage
.
I wish the team all the best in realizing this proposal and hope that similar projects, where art, energy generation and public space are coming together, will be more frequent in other parts of the world as well!