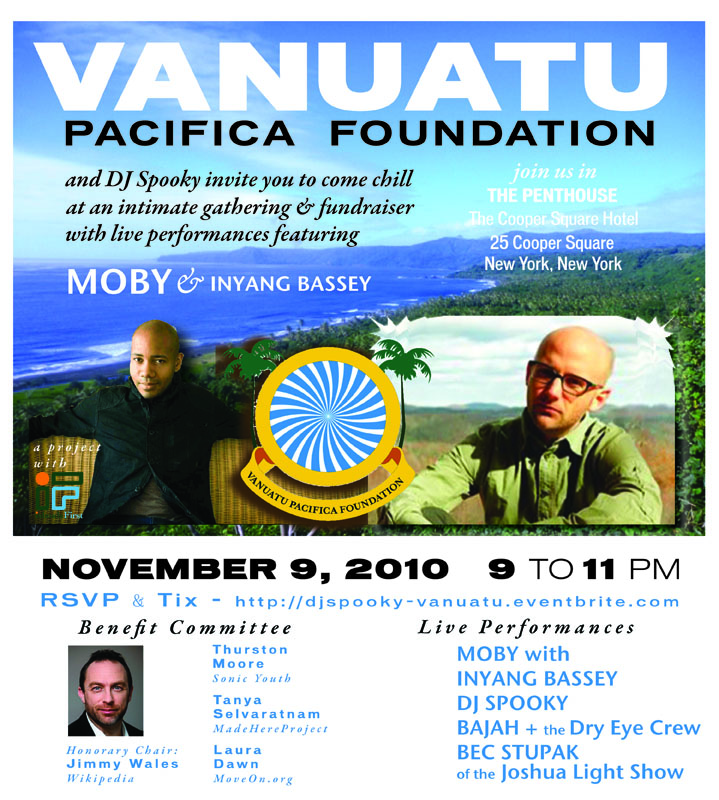 "The
Vanuatu Pacifica Foundation's mission with Tanna Center for The Arts is to provide contemporary arts, green energy and education programming that
builds thriving creativity and quality of life for all participants. The center is a contemporary arts retreat that provides haven to invited contemporary artists while serving the subsistence economy of three traditional villages on the island through clean energy, eco-restorative operations." [source]
The project was started by Dj Spooky during a visit on the island of Tanna as he was taken away by the heartly people of Vanuatu. While people of Vanuatu resisted the promises of a modern, urban life for a long time they are now faced with rapidly loosing their culture as young people get taken over by modern lifestyles which consume their souls and culture. Only by searching images on google with 'Vanuatu' as keyword you can get a feel of how fragile, already consumed and endangered the culture in Vanuatu is. The question is not to maintain people in their lifestyle, keeping them as sort of reminescence to the past, rather the stake is to empower them so they can proudly steer their islands into a sustainable future. One big issue in Vanuatu is the loss of languages, therefore the project explicitly aims at working together with locals to develop strategies to give young people in Vanuatu 'a reason to stay' as Esso Kapum puts it.
This project promises an interesting endeavour for highly skilled and capable individuals from the creative sector to take a step out of their world and spend time on Tanna in a residency program (it is called 'residency-in-context'). There they will be challenged and inspired by a situation being both

pristine but as well rapidly developing as Vanuatu is exposed to global pressures such as climate change or urbanisation. The participants should therefore "explore their practise in a sustainable context" and "balance their engagement with
art-making, applied technology, village culture and the perpetuation of a pristine setting"
[source]
.
The residency will as well develop the participant's worldview and help them to subsequently work with an enriched experience when being back home in the urban jungle.
The next step in the project is fundraising (which looks good on kickstarter) and a competition for the architectural and development concept of the Tannac center for the arts.
If you are interested to receive information about the project, sign up for the mailing list.
All in all this is a very noble and promising project which is setting high stakes.
I wish that the project will be a great success and will continue to follow developments. This should be a lighthouse project for projects which aim to make a difference by providing cultures the possibility to learn from each other.